Google Search
You are here:
Home
Articles
Civil War
|
| Hits: 18697
Civil War Drawing by Daniel Long of Erie County, Pennsylvania
* Image courtesy of Swann Auction Galleries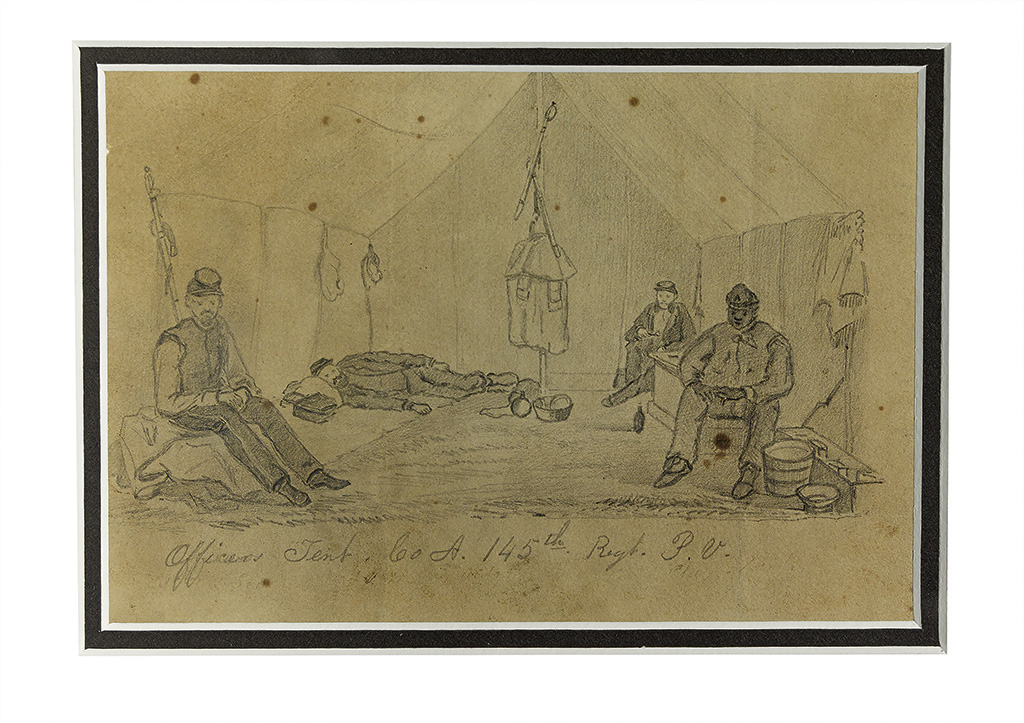 Daniel Long (1837-1899) of Fairview, Erie County, PA was apparently the artist of this charming sketch. It depicts three company officers relaxing in their tent, along with their African-American cook. From left to right, they are 2nd Lieutenant Daniel Long, Captain John W. Reynolds, 1st Lieutenant Fletcher Clay, and cook Jack Preston. The 145th Pennsylvania infantry was mustered on 26 August 1862, and Lieutenant Clay was killed at Fredericksburg on 13 December, which narrows down the date. With Autograph Letter Signed from Daniel Long to his wife Hanna dated Camp Bolivar Heights, Harper's Ferry, 20 October 1862 * and two captions by daughter Minnie Elizabeth Long Ryan (1870-1948) identifying the men in drawing. She adds that "Daniel Long was shot through right shoulder and lung...Jack Preston accompanied D. Long home when he was able to travel and remained for some time to help in the home." --Rick Stattler, rstattler@swanngalleries.com
*This particular piece will coming up at auction in Swann Galleries' September 17, 2015 sale. It is in Sale 2391 Lot 124 .
**Special thanks to Swann Auction Galleries and Rick Stattler for letting Passed Time use their image and information. Auction catalogs often divulge genealogy finds. They can provide useful and sometimes surprising, information. The catalogs of Swann and some other auction houses, provide superbly detailed and informative narratives. I look forward to their auction catalogs arriving in my mailbox, as much as I look forward to some periodicals. No, I am not a paid representative, but history should be shared. Best, Pat Earnest Dover, Delaware 18 August 2015