Google Search
You are here:
Home
Articles
Early Furniture Making
|
| Hits: 6037
Manuscript Furniture Designs by an Early 18th Century Philadelphia Joiner
Image courtesy of Swann Auction Galleries
Written by Rick Stattler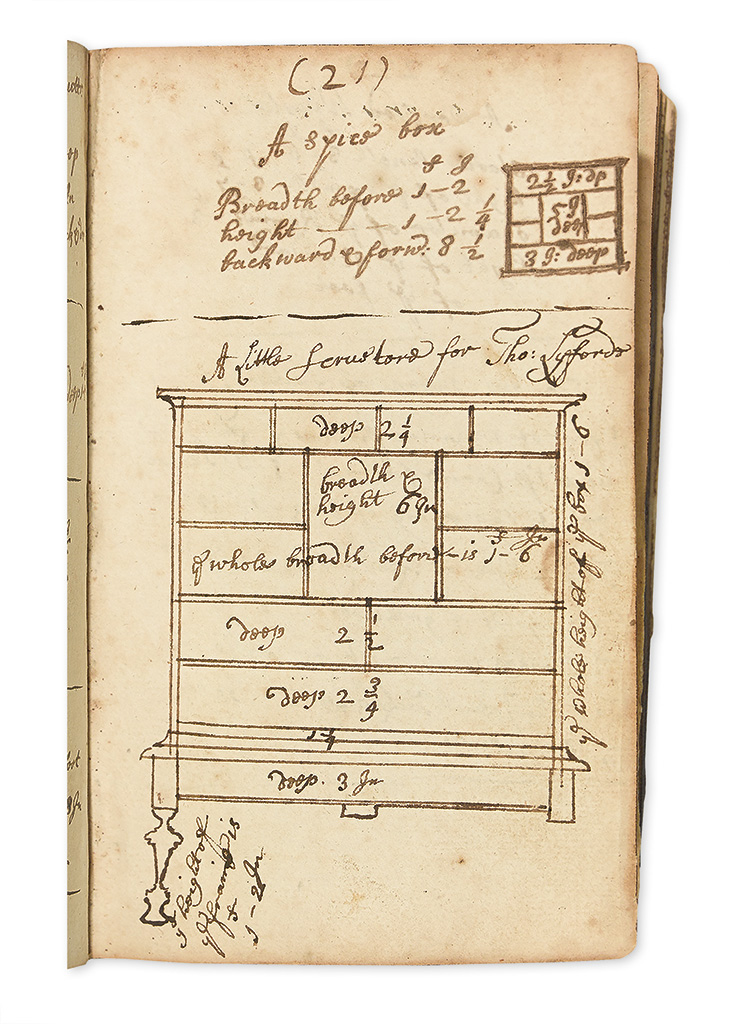 UPDATE October 28, 2015: As reported in the October 23, 2015 edition of Antiques & Auction News, this piece sold to a private collector for $75,000.00. Furthermore, Rick Stattler stated this was one of Swann's best Americana sales. It also serves as a reminder of the information that is available for genealogists and historians in auction c atalogs. Thank you for sharing---Passed Time
John Widdifield (1673-1720) was a very early American joiner who learned his trade in northern England and then settled in Philadelphia circa 1705. This volume shows him bringing William and Mary-era designs to the colonies, decades before the golden era of American craftsmanship. The first 26 pages are devoted to sets of measurements and prices for furniture forms ranging from clock cases to stools, cradles to coffins. He also includes sketches of three pieces: a spice box, a scrutoire (writing desk), and a "chest of wallnutt drawers upon a fraime." The materials noted are mostly walnut or pine, before the ready availability of mahogany. On page 22, he carefully prices out the material cost for making a dozen "leather chairs": frames, leather, girt web, tacks, and nails. On the verso of page 2 he records detailed instructions for keeping his tools at optimal sharpness.